The Church has two main feasts: the feast of St.Mary and the feast of St.Sebastian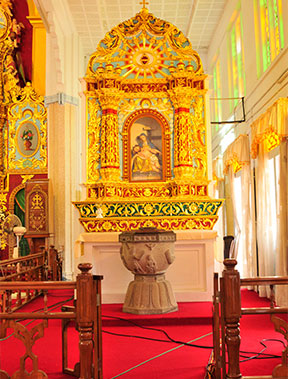 St. Mary's Feast
The church dedicated to blessed virgin Mary Celebrates her feast on 3rd Sunday of September. This Festal celebration is commonly called as Kannimasa Perunal / naragana Perunal. The members of Darsans Samooham (a pious association) plays a major role in this feast. They participate in their special costumes in the mass and Procession.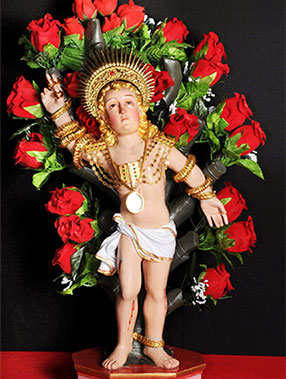 St. Sebastian's Feast
As per the record, the feast of st.sebastian was started at Athirampuzha church from the year 1647.Now the principal festal week in from 19th to 26th of January every year. The flag hoisting ceremony marking the beginning of the festival is on 19th.The annual feast attracts a large no. of devotees from all over south India. The statue of St.Sebastian installed here is considered very ancient. During the days of the Portuguese, three figures were brought to kerala. Legend says that the smallest of them has brought to Athirampuzha by local traders. This is known as 'Adiyelpicha Roopam' (the Tortured Figure). The statue of St.Sebastian in Athirampuzha is unique as it is the only statue of the saint without arrowation is very attractive.
St. Sebastian's statue is exposed for public veneration only during the feastal season. The dazzling display of fireworks in connection with the festival is a colorful visual treat. The procession is a spiritual ablu for the devotees. Band set including school bands, flags, gold-brass-silver wooden crosses, allavattom, venchamaram, Thazahakkuda, theevetti and beaded ornate umbrellas etc make the procession very gorgeous and regal. Ettamidam extends the celebration for eight more days. The Festival comes to an end by February 1.